British Science Week 2023 - Our Science Day Monday 13th March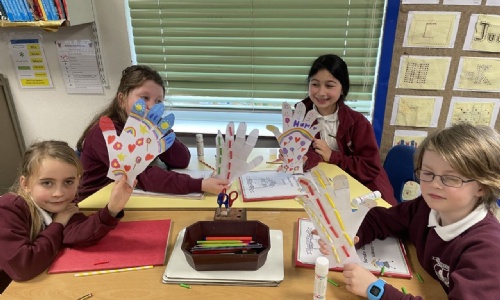 Children and teachers alike participated in an exciting science day with a national theme centered on making connections and exploring the impact of technology on our world. The day began with a riveting assembly led by Mrs. Thomas, which delved into the lives of famous scientists and the various types of technology that we interact with every day, from farms and watches to petrol pumps.
Year 6 children were privileged to have an excellent design engineer from Babcock visit them in the morning, providing a valuable opportunity for the children to think about their future careers and how their learning at school prepares them for possible careers.
Throughout the day, children of all ages engaged in a wide range of activities, including Early Years pupils who explored different communication methods and even made their own telephones. Meanwhile, Year 1 children focused on building strong structures, Year 2 children investigated fingerprints and their purposes in technology, Year 3 children learned about and made robotic hands, Year 4 children crafted clothes from plastic, Year 5 children created bridges to solve a problem, and Year 6 children constructed boats based on a challenge.
The children were deeply involved in scientific learning, asking many questions as they worked scientifically. Scientists and their contributions to the field were thoroughly explored, making the science day an incredibly enriching and memorable experience for all involved.