Dobwalls School Eco-Committee Embraces Community Engagement at Liskeard and Looe Foodbank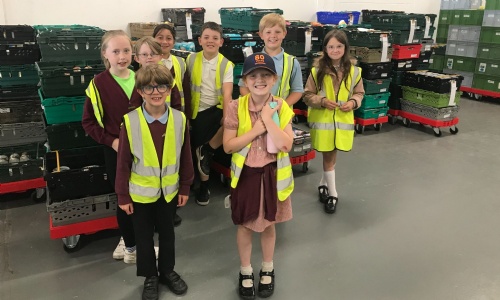 In a display of community engagement, the Eco-Committee of Dobwalls School recently embarked on a visit to the Liskeard and Looe foodbank operation centre. With a mission to learn, contribute, and make a positive impact, the young members of the Eco-Committee immersed themselves in an eye-opening experience that left them inspired and motivated.
During their visit, the Eco-Committee was granted an inside look into the day-to-day workings of the foodbank. They witnessed first-hand the journey of donated items and participated actively in the sorting process. With a focus on arranging food items based on their respective "used by" dates, the students played a vital role in ensuring that the foodbank's operations remained efficient and effective.
The Eco-Committee's members were deeply impressed by the dedication and collective effort that went into managing the foodbank. This experience resonated so profoundly with them that they emerged with a newfound sense of purpose and an exciting challenge for their school community.
Looking forward to the upcoming Harvest period in the Autumn term, the Dobwalls School Eco-Committee is gearing up to launch a unique and impactful initiative. Fuelled by the inspiration from their visit, they are set to channel their enthusiasm into a challenge that aims to make a substantial difference.
The Eco-Committee's commitment to not only learning about but actively participating in community initiatives underscores the significance of hands-on learning experiences. By immersing themselves in the real-world challenges faced by organisations like the Liskeard and Looe foodbank, these young individuals are not only cultivating a sense of responsibility but also developing empathy and a genuine understanding of the power of community action.
As the Autumn term approaches, the anticipation for the Eco-Committee's Harvest challenge grows. Their journey from observers to active participants stands as a testament to the impact that education intertwined with community engagement can have on shaping compassionate and responsible future leaders.
The Dobwalls School community eagerly awaits the unveiling of this exciting challenge, poised to stand together and make a meaningful difference during the Harvest season and beyond.