Triumphant Victory: Girls' Football Team Shines with Teamwork and Skill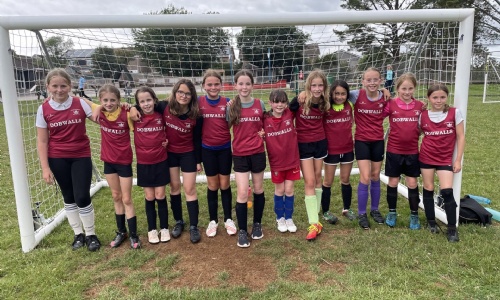 On a thrilling Thursday, 12th July, our girls' football team showcased their prowess on the field, securing an impressive 6-1 victory! The match was a true testament to their dedication and hard work.
Throughout the game, the girls exhibited outstanding teamwork, seamlessly working together like a well-oiled machine. Their coordination and support for one another were evident as they moved the ball with precision and made strategic plays that outwitted their opponents.
But it wasn't just their teamwork that led to this triumphant win. The girls displayed remarkable resilience, never giving up even in the face of challenges. They pushed forward with unwavering determination, fighting for every opportunity and bouncing back from setbacks, inspiring everyone present with their spirit and tenacity.
It's no secret that the success of the team was also attributed to a range of secret skills they employed on the field. It's clear that their hard work in training and dedication to improving their game played a significant role in their achievements.
The match was a fitting conclusion to the year, leaving a lasting impression on everyone who witnessed their incredible performance. Our girls' football team has indeed brought immense pride to the school, demonstrating what can be achieved through passion, perseverance, and unity.
As we celebrate their remarkable victory, we cannot overlook the significant role of Chris King, their coach. Chris's guidance, expertise, and mentorship have undoubtedly played a pivotal role in shaping the team's skills and fostering a winning mentality. We extend our heartfelt gratitude to Chris for his dedication and commitment to nurturing the talents of our girls.
This exceptional triumph is a testament to the girls' hard work, their coach's guidance, and the unwavering support from the school community. As we reflect on this memorable victory, we look forward to seeing our girls' football team continue to soar to greater heights in the future.
Congratulations to our extraordinary team on their magnificent win! The entire school is incredibly proud of your accomplishments. Keep shining brightly, and may this victory be a stepping stone to even greater success in the seasons to come. Go, team!