Lerryn Class Embarks on an Unforgettable Journey to Looe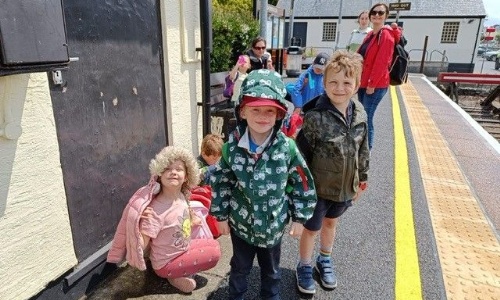 The students of Lerryn Class experienced an absolutely incredible trip to the charming coastal town of Looe today. Accompanied by their teachers, they embarked on an adventure that would leave a lasting impression on their young minds.
The journey commenced with a delightful train ride from Liskeard to Looe. As the train meandered through picturesque landscapes, the students eagerly peered out of the windows, marvelling at the stunning scenery that unfolded before their eyes. The anticipation and excitement grew as they approached their destination.
Upon reaching Looe, the children had the opportunity to visit the Lifeboat Station—an educational and awe-inspiring experience. They learnt about the courageous individuals who dedicate their lives to saving others at sea. The children were captivated by the stories of bravery and the impressive life-saving equipment on display. It was an eye-opening glimpse into the heroic world of maritime rescue.
Following their enriching visit to the Lifeboat Station, the children enjoyed a well-deserved lunch, recharging their energy for the adventures yet to come. After satiating their appetites, they embarked on a creative challenge—sand art. Armed with buckets, spades, and their imaginations, the children crafted intricate and imaginative sculptures on the golden shores of Looe's beach. Laughter filled the air as they shared their artistic endeavours and admired each other's creations.
To conclude their delightful day, the children made their way back to the station, savouring a delicious ice cream treat. The sweet, creamy indulgence provided the perfect ending to an unforgettable journey. As they boarded the train and waved goodbye to Looe, their hearts were filled with cherished memories and a newfound appreciation for the beauty and wonder of the world around them.
The Lerryn Class trip to Looe served as a reminder of the importance of experiential learning. Through hands-on exploration and encounters with real-life heroes, the students gained valuable insights and developed a deeper understanding of the world. Such excursions foster curiosity, ignite imagination, and instil a sense of adventure that will undoubtedly shape their lives for years to come.
As the train carried them back to Liskeard, the students reflected on the day's events, their hearts brimming with gratitude for the opportunity to embark on such a fantastic journey. The memories created on this trip will forever hold a special place in their hearts, serving as a testament to the power of education outside the classroom.