Live Theatre at Dobwalls!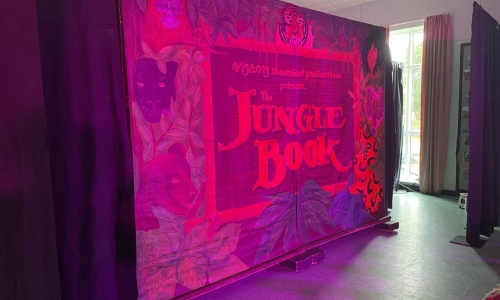 The school term concluded on a magical note as students were treated to an enchanting performance of "The Jungle Book" on Wednesday, 12th July. The entire school came together to witness the classic tale brought to life by four talented actors from M&M Productions, leaving everyone captivated and thoroughly entertained.
The anticipation in the air was palpable as the story unfolded before the spellbound audience. From the very beginning, it was clear that the actors were not only skilled but deeply passionate about their craft, as they immersed themselves completely in their respective characters. The characters we have all come to love, like Mowgli, Baloo, Bagheera, and Shere Khan, came alive with an incredible depth that resonated with both young and old alike.
Throughout the performance, the school echoed with joy as the captivating storytelling and lively portrayal of scenes elicited smiles, laughter, and gasps of excitement. The energy in the room was infectious, and the actors skilfully engaged the audience, making the experience interactive and immersive.
As the story of Mowgli's adventures in the jungle unfolded, the students were not just passive spectators but active participants in the journey. The applause and cheers that filled the room were a testament to the genuine delight the students felt as they watched their favourite characters leap off the pages of the storybooks and onto the stage.
The magic of theatre did not just lie in the entertainment value; it also offered valuable lessons and touched hearts. Themes of friendship, courage, and the importance of embracing differences resonated deeply with the audience. The Jungle Book was not only an enjoyable end-of-term treat but also a thought-provoking experience that left a positive impact on all who witnessed it.
The success of the performance could not have been possible without the dedicated efforts of M&M Productions, who brought their artistic brilliance to the stage. Their commitment to delivering quality performances was evident in every moment of the show.
Indeed, this end-of-term treat was a momentous occasion that will be fondly remembered by all. It provided a wonderful opportunity for the entire school community to come together, bond over a shared experience, and revel in the magic of storytelling.
We extend our heartfelt thanks to M&M Productions for making this end-of-term event truly fabulous and unforgettable. As we bid farewell to this term, we carry with us the cherished memories of this magical performance. The experience of watching "The Jungle Book" will undoubtedly stay etched in our hearts and minds, inspiring our young minds and igniting a love for the arts.
Here's to more such enchanting experiences in the future and to nurturing the creative spirits of our students. May the magic of storytelling continue to weave its spell on generations to come!