Year 6's Spectacular Final Performance of Cinderella Rockerfella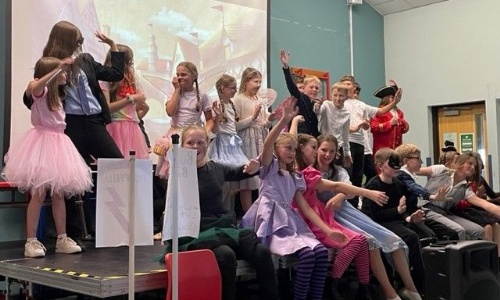 On a memorable Wednesday evening, the students of Year 6 at Dobwalls School took to the stage for their highly anticipated final performance. The play of choice was none other than the beloved classic, "Cinderella Rockerfella," and what unfolded was nothing short of pure magic.
"Cinderella Rockerfella" is a modern twist on the timeless fairytale we all know and love. The students brought a fresh energy and creativity to the characters, infusing the play with their unique personalities. The result was a humorous rendition that left the audience in fits of laughter.
Laughter was not the only emotion evoked that evening. The touching moments and sincere performances brought tears of joy to the eyes of many in attendance. It was evident that these young actors had poured their hearts and souls into their roles, creating an emotional connection with the audience.
The highlight of the evening was undoubtedly the musical numbers. Year 6's singing was exceptional, with voices that resonated beautifully throughout the room. From powerful solos to harmonious group performances, their vocal talents shone brightly and left everyone in awe.
As the performance came to an end, the thunderous applause filled the room, expressing the audience's appreciation for a job well done. Parents, teachers, and fellow students alike were proud of Year 6's outstanding achievement.
For the Year 6 students, this final performance at Dobwalls was a bittersweet moment. As they bid farewell to their primary school years, they leave behind a legacy of talent, teamwork, and unforgettable memories.
The magic of that Wednesday evening will forever linger in the hearts of the audience, a reminder of the joy and happiness that can be found in the world of theatre. As these young stars set their sights on new horizons, we can only imagine the bright futures that await them.
In conclusion, Year 6's performance of "Cinderella Rockerfella" was nothing short of fantastic. It brought laughter, joy, and tears of happiness to everyone lucky enough to witness it.